The Aino Family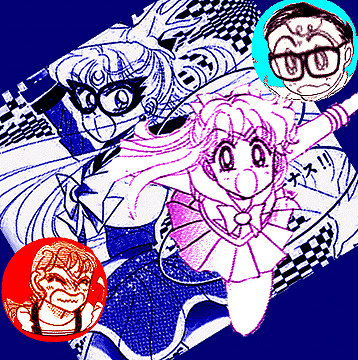 Minako (seen here with daughter Mina) doesn't spend much time with her mother and father. Still, they are her family and should be mentioned.

Mrs. Aino
Alias: Mom, Mommy
The mother of Minako, Mrs. Aino is seen in the Codename Sailor V manga and is very bossy. This hellcat housewife on wheels is often fond of ordering around her only child, having a list of chores ready for her at a moment's notice. She's even been seen kicking Minako out of bed, chastising her for wrinkling her uniform, and stealing her video game. (Minako's mother is actually a fantastic gamer.) Her character is not seen in the regular Sailormoon series, save but for one panel in one of the Exam Battle Chapters, where Minako lists her as one of her dislikes. Many a Sailor Venus fan list her as "The Screaming Hag".
Mr. Aino
Alias: Father, Daddy

Mr. Aino is seen in a few panels during Codename Sailor V and is a clumsy businessman. Not much is known about him, other that he is a lot like Usagi's father, Kenji. He is at the mercy of his wife's constant bickering, and tries to live his life quietly, oblivious to the fact that his daughter is Sailor V/Venus. Like his wife, he often times doesn't realize when his only child goes on her missions, and has never met the other Senshi. He is not seen in the Sailormoon manga. Although not as good at it as Minako or her mother, Mr. Aino likes to play video games, but is not very good with handling electronics.
Mina Aino

Name: Mina Aino
Birthday: October 22, 2004
Birthstone: Opal
Western Astrological Sign: Libra
Astrological Planet: Venus
Chinese Astrological Sign: Wood Monkey
Height: 4'1
Blood Type: B
Age: 8

While she does not appear in Codename Sailor V, Mina's existence is worth noting. When Ace Kaitou dies, he tells Minako's fortune, that she will never find true love, and will only work her entire life, never knowing a full romance. Little Mina's appearance during Parallel Sailormoon proves that Sailor V was able to overcome this sad fortune. Essentially, Mina is the forbidden child! Just like her mother, Mina can also transform, and is part of Kousagi's team of Sailor Senshi. Every bit the schemer her mother is, she manipulates Kousagi into carrying everyone's books. Minako takes her along on field trips and autograph signings.
Minako's Husband
Not much is known about her husband, other than he's the assistant director to a comedy. Through him, Minako is able to visit the sets of soaps and variety shows, and also is able to access any concert she pleases. His picture is never seen.
<![if !supportLineBreakNewLine]>
<![endif]>
Minako's mother, father, daughter and husband are never mentioned in the anime.