Which brings me to my next point, WHAT THE FUCK IS WITH CHIBIUSA AND HER FATHER?????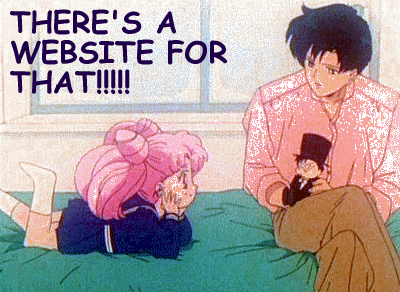 Now, in the manga, just as his first-born is clueless as to why Hotaru keeps touching her, Mamoru has no clue that his daughter (until Sailormoon SuperS graphic novel #1) chooses to ignore that he indeed is her biological father, in favor of this wild-assed crush. However, the dumbasses at Toei animation decided to have him share those same crush-esque feelings right back at her, which resulted in the debacle(s) below: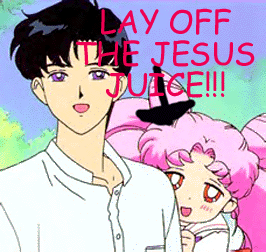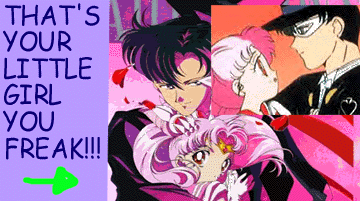 And as if this wasn't bad enough, take a look at when she debuted. (This is the same in the manga.)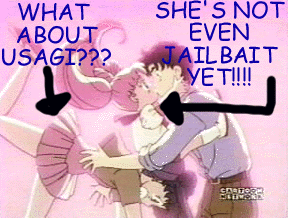 Even worse, in both the anime AND the manga, this image exists: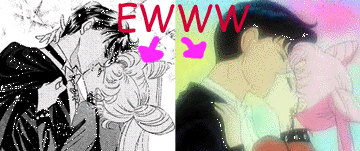 In the anime, the kiss was only an image created by Wiseman to torture Sailor Moon with. but in the manga, she kidnaps her father, as she's becoming Black Lady, and yes, uses him against her mother AND KISSES HIM, EWWWW!!!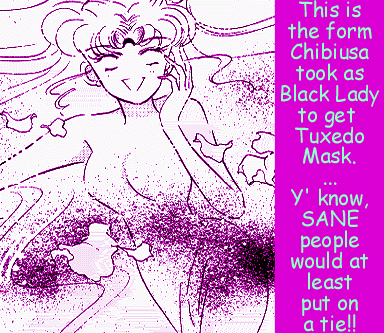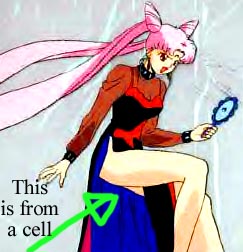 What was she planning, to be her own mother? Granted, she, her baby sister and dey mama look alike, share the same name, blood type, powers, friends and such, and this would almost explain the whole red eye thing and why Kousagi doesn't share that trait (if you discount Ikuko's manga self) , so it's not like anyone would notice if Chibiusa/Black Lady was her own mother, but this does NOT EXCUSE THE OBVIOUS EWW FACTOR!!! Thank God this didn't come to fruition or poor neglected Kousagi would have this to say to her new pink cat:
Kousagi: Well, as long as youíre gonna stay with us; let Kousagi introduce you to her family. This is Mama Usagi, Papa Mamoru, and my big sisters, Black Lady and Chibiusa.
Cat: Wow! You have two sisters Princess Kousagi-chan?
Kousagi: In a way....Y'see, Black Lady is my full sister, who had a major fling with Papa, and she wound up giving birth to herself but not quite 'cause Chibiusa's eyes are an unnatural shade of red, and Black Lady has no more pupils, so in effect , Mama disowned Black Lady and she lives with her live in boyfriend Prince Diamond, who also fathered Sailor Chibimoon with Mama-
Cat: You have another sister?
Kousagi: We don't talk about her, she lives with her girlfriend Hotaru. Mama was taken advantage of.
Cat: Oh.
Kousagi: Anyway, Black Lady is my full sister, Chibimoon is my half sister and Chibiusa is part my half sister, part niece, part stepsister, making Black Lady part sister, part step mommy, part aunt, and Chibimoon part sister, part step cousin. But at least it's not as bad as my other sister from the 30th century who is still my big sister, Princess Lady Serenity.
Cat: Who?
Kousagi: Don't ask. She lives with her lover, Helios. She's also seeing Peruru, who's from another universe I guess, but the tests have shown that the baby really is Helios's.
Cat: BABY?
Kousagi: Well, Helios is almost the alternate universe version of my Papa-
Cat: ALMOST? What the fuck?
Kousagi: Don't ask. Anyway, this makes the baby my part niece, part half sister, part full sister, full older sister, part twin, part little sister, part stepsister, part cousin. Her name is Chibi-usa.
Cat: I thought that was Black Lady's kid?
Kousagi: Nu-no,that's Chibiusa. Chibi-usa's name is spelled with a hyphen. See the difference?
Cat: No.
Kousagi: Well, at least it's not like Diana.
Cat: Who?
Kousagi: Diana is Super Sailor Chibimoon's cat.
Cat: ...There's another one?
Kousagi: Yeah, she's my sister from the universe where she came from the 30th century to hang out with Mama. Not to be confused with Princess Lady Serenity.
Cat: *SIGH* I'll bite, what's so different about Diana?
Kousagi: Well, In a past life, Artemis, who's Mina and Minako's cat, was the only male on the moon. Queen Serenity, my past life granny had a summer fling with him, and she had his child, Princess Serenity, who later died, and was reincarnated as Mama. And then Artemis hooked up with Mama's cat Luna, and they had Diana.
Cat: ...Meaning?
Kousagi: That Diana is my part aunt, part pet and because Black lady cancelled out Mama being Mama, Diana is also my sister, part niece, part cousin, part -
Cat: STOP IT!!!
Kousagi: What? It's not nearly as bad as Luna-P.
Cat: Pardon?
Kousagi: Luna-P? She's Diana and my sisters' toy... part my sister, part my vibrator on the weekends, part aunt part friend, part-
Cat: AAAAAAUUUUUUUUGH!!!!!
Kousagi: Shh! Don't tell Peruru about this!
Cat: WHAT?
Kousagi: You remember? He's my part common-law brother-in-law with Helios, part my lover, part uncle, part-
Cat: I'M SORRY I ASKED!!! I wanna go home.
Kousagi: To Mau? Hey, how many talking cats are on Mau?
Cat: Not many.
Kousagi: Soooo you guys inbreed?
Cat: .......Why? What's it to you?
(Kousagi kisses Cat on the nose.)
Cat: WHAT THE HOLY HELL????
Kousagi: You're the long lost relative of Luna!
Cat: Luna?
Kousagi: She's Diana's mother! So you're part my sister, part aunt, part cousin, part niece, part
Cat: Oh God somebody PLEASE KILL ME!! I've HAD ENOUGH!!!
Parallel Senshi: Now do you see why we avoid coming here?
Cat: AUUUUUUUUUUUUUURRRGH!!!
Y'see just how WRONG that is?